Jan. 25, 2022
Recently, the new health code intelligent passage system of Shenzhen Rakinda Technologies Co., Ltd independently developed health code and related face health code verification terminal(support brush ID card / social security card verification health code) were successfully launched, providing convenience for the elderly to successfully carry out rapid health code detection and temperature detection.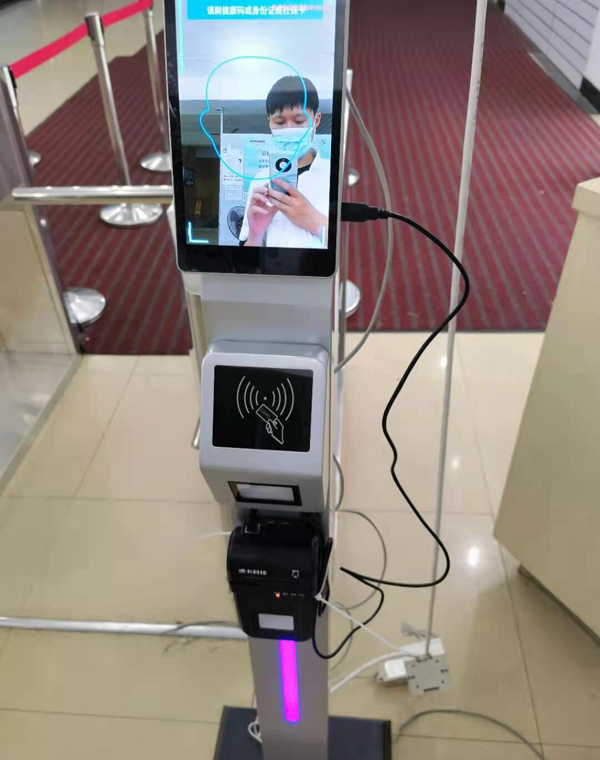 In the fifth people's hospital in Shanghai and bridge community and other hospital outpatient entrance, to see elderly patients only need to put id card or social security card, medical insurance card recognition area, face at the temperature panel, related face information, body temperature, health code, travel code and other health status can quickly show, second speed check, do not need to pass through mobile phone step by step.This convenience measure has been strongly recognized by the patients who come to see a doctor, especially the elderly patients!
After understanding, the elderly in their hospital account for a large part of the patients, some of them do not have smart phones, some are not good to use, the staff needs to manually record patient information.At the peak of medical treatment, the outpatient department always rows up a long queue, which not only affects the speed of patients, but also brings a lot of inconvenience to the prevention and control work of the hospital.Now enabled the new health code intelligent pass system and the relevant health code scanning temperature measurement face recognition all-in-one machine, can quickly identify the cardholder's health code status by swiping the ID card or social security card or medical insurance card. If it is green code, the equipment will prompt "green code, please pass"!One machine realizes "no contact, second query, fast passage", information confidentiality is safer, shorter verification time, to achieve a more intimate, more convenient and safer purpose.
With this new health code intelligent traffic system, it is much more convenient for hospitals, government halls and other places with dense groups of the elderly for temperature detection and health code verification.Health code scanning face temperature verification can not only greatly improve traffic efficiency, reduce queuing and congestion, reduce the investigation pressure of grass-roots epidemic prevention management personnel, but also automatically count the number of various health codes verification to achieve one-stop epidemic prevention management, so as to improve the efficiency of epidemic prevention and verification and liberate manpower.If you have special custom needs or you want to learn more detailed, you are welcome to contact us!
Shenzhen Rakinda Technologies Co., Ltd. focuses on health code-related technology and hardware research, development and manufacturing.It not only provides better quality and more cost-effective intelligent health code verification terminal products for major domestic enterprises, but also provides partners with health code precision epidemic prevention verification technical services, face temperature measurement health code verification and professional epidemic prevention health code verification management face temperature measurement access control solutions.